Order Now! Now Shipping!
TO GET YOUR BOOK BY CHRISTMAS, PLEASE ORDER DIRECT FROM AMAZON!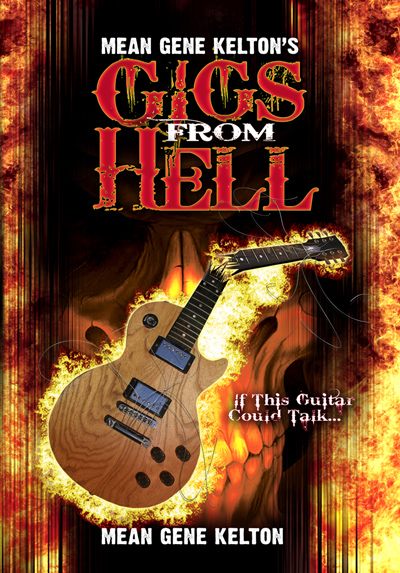 PREORDER YOUR BOOK NOW….
Books are shipping Nov. 29!
From Gigs From Hell:
Introduction
I never really gave much thought to writing a book. Especially a book about my gigs from hell – because all musicians have gigs from hell. I just talk about mine more than most.
As I would tell my stories, many people suggested I write a book about all the misadventures in my life as a professional musician.
Reluctantly, I started making notes and giving each story a title. I never realized how many wild, crazy, hilarious, dangerous and sometimes life threatening experiences I had been involved in until I?had written over two hundred titles… and Gigs From Hell was born.
What is a gig from hell, you ask?
Do you remember that scene in the Blues Brothers where the band is set up on a stage, behind a chickenwire fence and forced to play country songs all night while drunk rednecks throw beer bottles at the band? That scene may be funny to you, but to us musicians who have actually experienced that sort of disrespect, that shit ain't funny! That, my friends, was a gig from hell.
Do you remember the movie Roadhouse that featured the Jeff Healey Band, performing behind a chickenwire fence while the joint was destroyed by barroom brawls? Those scenes are exciting on the silver screen, but in real life, they can be terrifying and sometimes tragic. For a band, they can become gigs from hell.
Unlike fictional Hollywood depictions of bands and band life, my gigs from hell are all true.
If you have a problem with graphic descriptions of nudity, sexual activity, tales of violence, drunkenness, drug use, extreme profanity, political incorrectness and the use of words that start with N, C, P, F and many others, then throw this book down now: run, bury your head in the sand and pretend that the world is perfect. This book is not a whitewashed, candy-coated collection of happy little music fairy tales where shit don't stink and people live happily ever after.
Gigs From Hell is a documentary of real life events, written in the same attitude in which I lived it. Hard, rough, sometimes dangerous and often unfair. I wrote in such a way that you, the reader, will feel your eyes burn from the clouds of second hand smoke in a smokey bar… smell the cheap perfume and beer breath of an aging barfly hanging all over you trying to be your date for the night… and the rancid stench of wet wooden boards in dilapidated backwoods country beer joints, where you can see the ground through holes in the restroom floor.
You'll feel the rush of a standing ovation on nights when you can do no wrong, and the cold fear of gettin' your ass stomped when an angry redneck crowd turns into a lynch mob. You'll feel the tequila set your brain ablaze, you'll taste the blood on your lip, and feel the tears in your eyes. You'll know the anxiety and anguish of dreams dashed. You'll experience the ecstasy of being live onstage, alone in the spotlight.
You'll go with me: not just behind the scenes – you'll stand next to me, center stage.
Bright lights, facing the crowd, you'll bare your soul to the critics, hecklers, assholes, groupies and worshippers.
You'll know the hopelessness of chasing your dream like a hobo chasing a freight train.
You'll feel victorious from conquering the neon world with nothing but a song and a guitar, and then the loneliness of a cheap motel after a show.
You'll ride with me on the road, taking your turn driving all night when your eyelids feel like lead and the dawn is a million miles away.
You'll stand by me in a bar fight against the devil himself, and run with me as we run for our lives from possible death and destruction.
You'll call me a liar. Everything is true.
Welcome to the trenches, the front lines of my life.
Welcome to Mean Gene Kelton's Gigs From Hell!
Names Changed
Because people grow up, move out, move on, get religion, get married, get remarried, have kids, raise grandkids, move into different careers, die, and so on, I have either purposely omitted or changed the names of many people, places and venues in this book in order to protect them, their memories, their reputations and their families from the repercussions of all the stupid shit they did.
Me? I confess… I did it all!