Mean Guitar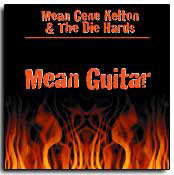 They call him Mean Gene 'cause, as Joe "Guitar" Hughes once said, "…he play a Mean Guitar!"
Thus the title of Texas bluesrocker Mean Gene Kelton's CD Mean Guitar. As the lyrics in the title song suggest, Mean Gene's guitar is "red hot" and "razor sharp" – hotter than a welder's arc, fusing together Chuck Berry/Johnny Winter/Albert Collins and Delta Blues influences into one molten melting pot of scorching blues rock and smoldering Percy Sledge-style ballads.
Backed up by top-notch, veteran A-team Die Hard road warriors featuring A.J. Fee on bass, "Dr. C.C." Curtis Craig on drums and special guest Kenny Jackson on keyboard, Mean Guitar keeps it's promise to take the listener on a bluesrock adventure to far reaches of the blues universe.
Kelton makes no apologies or excuses, and takes no prisoners as he plays with the fury of an arsonist with a flame thrower. If you are a fan of flat-out, no-holes-barred houserockin' Texas blues guitar, Mean Guitar is a "stay in the CD player CD"!
Mean Guitar (2003)
Mean Guitar
Even Meaner Blues
Two Thangs
I Love My Job
Guess Who
So Wrong… So Right
Runnin' From the Law
Give Blues A Chance
If Everybody Loved The Blues
Prince of the Blues
Why Do You Punish Me
Sweet Mother Blues
These Blues Are Kickin' My Ass
Runnin' From the Law
Party On The Levee
CD: Mean Guitar