Most Requested

Released in 2000, Most Requested hit the streets running. After years of playing originals that were requested time and time again, Die Hard fans begged for a CD that included their Mean Gene Kelton favorites.
After its release, Most Requested hit #1 in sales at Cactus Music in Houston, the same week that Santana's Supernatural was released – and Most Requested sold MORE than Santana for a period of time, thanks to heavy rotation in local radio. KPFT's Joe Montes of Joe's Roadhouse was the first to play a cut off the CD, even before it was released… he had gotten ahold of a bootleg copy of a demo tape made by the band for club owners, and the rest is history.
The song was "My Baby Don't Wear No Panties", and the demo tape didn't even have the complete song. The phones rang off the wall at KPFT, and the demand for a full, commercial CD exploded. The song went on to become the most requested song on several radio stations throughout the South, and other cuts from Most Requested made their way on the air throughout the US and the world on broadcast and internet radio worldwide.
Most Requested is still most requested!
Mean Guitar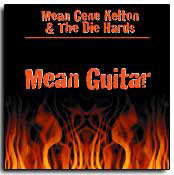 They call him Mean Gene 'cause, as Joe "Guitar" Hughes once said, "he play a Mean Guitar".
Thus the title of Texas bluesrocker Mean Gene Kelton's latest CD release Mean Guitar. As the lyrics in the title song suggest, Mean Gene's guitar is "red hot" and "razor sharp" – hotter than a welder's arc, fusing together Chuck Berry/Johnny Winter/Albert Collins and Delta Blues influences into one molten melting pot of scorching blues rock and smoldering Percy Sledge-style ballads.
Backed up by top-notch, veteran A-team Die Hard road warriors featuring A.J. Fee on bass, "Dr. C.C." Curtis Craig on drums, and special guest Kenny Jackson on keyboard, Mean Guitar keeps it's promise to take the listener on a blues/rock adventure to far reaches of the blues universe.
Kelton makes no apologies or excuses, and takes no prisoners as he plays with the fury on an arsonist with a flame thrower. If you are a fan of flat-out, no-holes-barred houserockin' Texas blues guitar, Mean Guitar is a "stay in the CD player CD"!
Buy The CDs and Digital Downloads

The CDs are available at over 2400 retail outlets across the US… go to your favorite store and just ask – or, click on the link below to order directly from our online store!
The Music